[animation animation="fadeInUp"]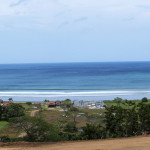 [/animation][gap]
[animation animation="fadeIn"]
Just fifteen years ago, in the late nineties, the area that is now Playa Venao was only accessible on horseback and dirt roads. It was known as one of numerous beaches that sit within the boundaries of Pedasi District in the Los Santos province of Panama – but apart from the beautiful and ungroomed beach, the surrounding areas were jungle terrain – pretty much uninhabited.
Meanwhile access to the Azuero Peninsula was getting easier. President Mireya Moscoso became the first female president in 1999. Native to Pedasi, she catalyzed for the roads from Las Tablas to Pedasi to be paved in asphalt during her time in office (1999-2004). More recently the roads from Pedasi to Playa Venao were paved, allowing for easier car access. Former Finance Minister Alberto Vallarino must have seen the magic – as he subsequently purchased and developed what is now the Hostal Villa Marina. 
The area really started to take off as a community of its own when, in 2006, a group of investors, mostly from Israel, took to develop a new community project on the uninhabited beachfront / jungle terrain. Since, the area has been cleared, new cellular and internet towers, as well as an electricity plant was built, new wells were dug, a sewage and trash collection system was implemented. Tourism started to take off – as word of this magical and spiritual location spread among the domestic and overseas expatriate community, as well as within the social scene in Panama City. 
In 2011 and 2012, Playa Venao hosted two ISA World Surf Championships. In 2013, Air Panama, a domestic carrier, introduced flights from Albrook (Panama City) to Pedasi three times a week. In August 2014, MTV arrived to film their hit show, Real World: The Challenge in Cañas, Playa Venao, and Pedasi (to air Dec 2014/Jan 2015). 
Given its unique standing as a modern community (there was no pre-existing local community before the beach was developed), most of the establishments in Playa Venao are commercial (pending completion of a few residential developments in 2015-16). As such, most employees find themselves commuting from nearby Cañas, Tonosí, or Pedasí.
In particular, Cañas, being an 8 minute drive from Playa Venao, has found its own footing as a residential center – a local village equipped with supermarkets and a boat dock, as well as a lush green gated community situated in the hills across the road from the village. Cañas has since become a launch pad for its own tourist activities like whale and turtle tours, jungle and waterfall walks, mangrove tours. An adventure park featuring 8 ziplines are pending completion in December 2014. 
At the time of research, the combined population of Playa Venao / Cañas is estimated to be ~1,000, while Pedasi has grown to about 5,000. At the time of writing the accommodation capacity of hotels in the area (excludes camp areas) ~500 persons, and the combined accommodation capacity of the area (Venao/Canas) is expected to grow 3x in the next two years (-2016). 
[/animation]