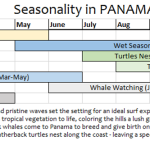 [gap]
[gap]
2nd Saturday of Jan (Jan 10, 2015) : 
– Festival de Diablos y Congos (Portobelo). devil masks and costumes fill the city to celebrate the country's slave ancestors.
– 40 days after Easter: Fiesta de Corpus Christi (Villa de Los Santos). A 2-week religious festival where masks and costumes replicate mythological figures, angels, and devils, and features elaborate dance performances, acrobatics.
– 3rd week August: Festival del Manito Ocueno (Ocu). Three-day folkloric event featuring traditional music and dances, and a country wedding.